MACRA 2020 for Agents
WHAT:  The Medicare Access & CHIP Reauthorization Act of 2015 (MACRA)
WHEN: MACRA was signed into law by President Obama on April 16, 2015. MACRA becomes effective on January 1, 2020
WHY:  MACRA was passed in an effort to control Medicare costs and to replace the formula that dictated reimbursement to healthcare providers (SGR – Sustainable Growth Rate).
HOW: MACRA is a federal law that will affect the types of Medicare Supplement plans that can be sold after January 1, 2020.  Newly eligible beneficiaries will not be able to purchase plans that cover the Part B deductible. MACRA also required that Social Security Numbers be removed from all Medicare cards to protect the private health and financial information of all beneficiaries. Beneficiaries have already started to receive updated cards.
FOR AGENTS
For current beneficiaries and those eligible for Medicare on or before December 31, 2019:  Medicare Supplement plans will not change, and no action is required- beneficiaries can keep their existing coverage. Beneficiaries can still purchase plans that cover their Part B deductible (Plans C, F, and the High Deductible F plan).
For anyone who becomes eligible for Medicare on or after January 1, 2020: Medicare Supplement options will change. Clients can no longer purchase a plan that covers the Part B Deductible (Plans C, F, and or the High Deductible F plan). Zero deductible plans will no longer be available. Guaranteed issue plans will be available (Plans D, G, and the new High Deductible G plan). Your clients will be considered newly eligible under MACRA if they first become eligible for Medicare due to turning age 65, become disabled, or have end-stage renal disease on or after January 1, 2020.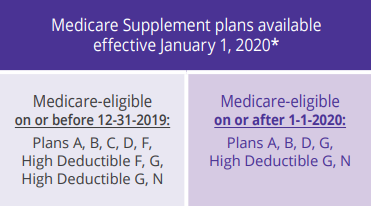 * Plans will vary by state and not all plans are available in all states.
Important information to share with your clients:
Medicare Outpatient Observation Notice: Medicare beneficiaries should be aware that if they are hospitalized overnight, they should request "inpatient" instead of "under observation" classification as this could impact the amount of money they will have to pay.
Premiums for Medicare Part B and Part D may increase: If a beneficiary has income over a specific threshold.