ABS Mobile App & Free Quote Tool
AMAC Broker Agents are taking advantage of free access to CSG Quoting!
FREE CSG Quoting Tool:  AMAC Broker Services agents are provided with a unique log-in and password for FREE access to CSG Actuarial Quoting, a CMS approved quoting portal.  Click here.
Your free access includes: Medicare Supplement and Medicare Advantage quoting tools, product analysis reports (Final Expense, Life), rate change reports, age increase rate tables, and plan application downloads. You can compare plans in your area and offer your clients the best!   You quote, we pay!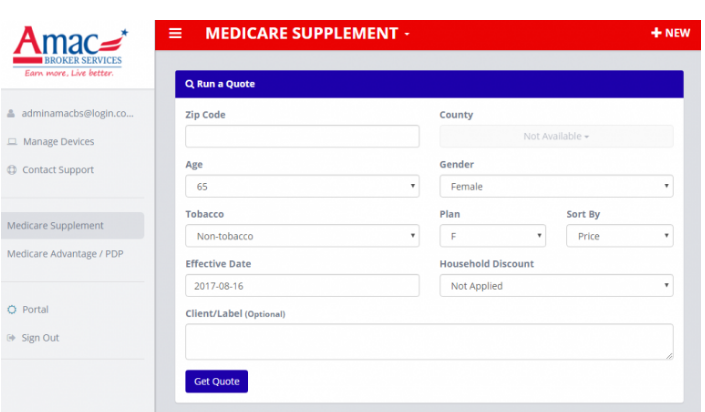 NOW AVAILABLE: Mobile App (powered by CSG) The AMAC Broker Mobile Quoting App is now available for download on the Apple and Google Play stores!  Our app (powered by CSG Actuarial) will give you quoting capabilities at the touch of your fingertips. And the best part? We pay for it! If we have already provided you with your unique username and password with access to the CSG web portal, simply download the app and you can begin a quote today!  If not, contact AMAC Broker Services today!
Click Here for instructions on Downloading the AMAC Broker Quoting Tool App
Discounted E&O Coverage: ABS offers access to discounted E&O coverage to protect your business against professional liability claims. We offer a product underwritten by CNA Insurance and administered by Gallagher MGA, featuring a quick online application and low monthly premiums! If you are in the contracting process, but not yet contracted, and need E&O coverage, please follow this link. You will be able to Apply for Coverage and create a New Customer Registration. You will need your original Date of Licensure, State License Number, Agent Writing Number (if applicable), and Payment Information (credit card or EFT).
Discounted Continuing Education Credits: We have partnered with WebCE to bring you discounts on producer licensing and continuing education credits. You must be contracted with AMAC Broker Services to access discounts for continuing education.
Once you become contracted with AMAC Broker Services, you will be given a unique password and log-in so that you can enjoy the benefits.