Earn More, Sell Life
As the country rebounds from covid-19, there is a new awareness of the value of life insurance. You can help your clients and their families navigate the complexities with these new products.
AMAC Broker Services is proud to announce that we are now offering life insurance contracts with Mutual of Omaha Term Life Express & Crump Life!
Mutual of Omaha Term Life Express
The Mutual of Omaha Term Life Express product line offers simplified underwriting for ages 18-70 with face amounts from $25k to $300k (up to age 50). Quoting options include traditional website using your Mutual of Omaha producer number. Quotes on the Go, a New Mobile App is now available for download and quote today!

Additional Riders are available: Disability Income (non-ROP policies only), Disability Waiver of Premium, Accidental Death Benefit, and Dependent Children's. Additional No-Cost Benefits include: Living Benefits Riders, Accelerated Death Benefit Rider, Residential Damage Waiver of Premium Rider, Waiver of Premium for Unemployment Rider, and Common Carrier Death Provision. All riders are subject to state approval/state availability.
Crump Life Insurance Service
Carriers include: American General, American National, Assurity Life Insurance Co, AXA Equitable, Banner, Brighthouse Life, Global Atlantic, Guardian Life, John Hancock, Lincoln Life, Minnesota Life, Nationwide, North American, Pacific Life, Principal, Protective, Prudential,  Security Mutual, Symetra Life, Transamerica, United of Omaha, US Life of NY, & William Penn.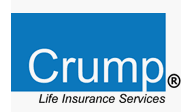 For additional information, contact Bill Terpenny, VP Senior Markets at [email protected] or call Bill at 631-833-1208 or 800-334-9330 x1014.
Commission rates will apply to Base/Target Premiums only. Products may be banded for specific issue ages and/or face amounts – Commission reductions may apply. Under no circumstances will the compensation paid to a producer exceed any carrier-published producer level maximum. Certain geographical restrictions may apply. All carriers may not be available to all producers and all rates are subject to change.
AMAC Brokers also represents the following A rated carriers:
AIG, Genworth, MetLife, Prudential, Transamerica, and more!